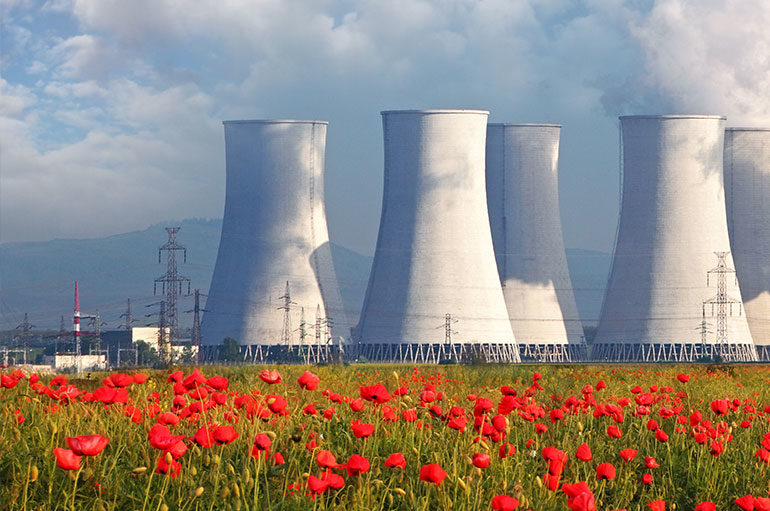 Iron oxide captures toxic chemicals and carbon dioxide through chemical bonding and chemical looping
An exciting new application for magnetite is revolutionizing the production of electricity, and Quality Magnetite plays a critical role in power plant emissions reduction. Recently, scientists discovered that iron oxide's unique properties make it an effective agent for removing harmful compounds generated during the production of electricity.
Magnetite has dozens of uses in helping to make the world a safer, healthier place, from purifying drinking water to enabling innovative cancer treatments using ferrofluids. Now, research shows iron oxide can play a powerful role in chemical bonding and chemical looping — two novel techniques that promise to revolutionize the way power plants control and contain the toxic chemicals produced during operations.
"We're proud to produce products that help reduce environmental impact and carbon footprint," says George Hamilton, Operations Manager at Quality Magnetite. "Our ferrous oxide provides the raw material crucial to the innovations that will ensure a cleaner, greener energy future. Power plant emissions reduction is yet another exciting potential application for our magnetite, and we stand ready to supply energy producers as demand grows."
Below, you'll learn more about the exciting potential chemical bonding and chemical looping have to reduce power plant emissions.
Iron oxide is an important ingredient in chemical bonding emissions reduction
The utility industry has been searching for an affordable and effective way to reduce mercury and other toxic emissions for years. Now, new technologies are emerging that substantially reduce emissions at coal-fired power plants. Through the addition of magnetite and a variety of other products, power plants can reduce mercury, nitrogen oxide and sulphur dioxide emissions through chemical bonding.
The bonding occurs during the cooling process, capturing the harmful materials so that they become part of the ash rather than being released into the air. In a world where energy demand is growing and governments are increasingly conscious of toxic emissions, this implementation of magnetite is a welcome technological advance for power plants looking to cut harmful emissions in an efficient, cost-effective manner.
Quality magnetite plays a key role in CO2-reducing chemical looping technique
Magnetite is also revolutionizing the coal-powered electricity industry through an exciting process that produces vast amounts of heat and pure, extractable carbon dioxide that is easy to capture and sequester. Through a process called chemical looping, energy is produced more cleanly than with traditional, open-burn techniques.
The process avoids emissions created when traditional coal plants burn coal in the open air. instead, chemical looping is a process that takes the coal and introduces it to oxygen-bearing materials, like iron oxide, in a closed system. Iron reacts with the coal, and the energy bound in the coal breaks the bonds between the iron and oxygen. Later in the reaction, iron interacts with air, and the chemical reaction produces heat, which is used to produce steam.
This reaction takes place at much lower temperatures than traditional coal burning, and it produces almost no nitrogen oxide and a nearly pure stream of carbon dioxide, which is then siphoned off for underground storage.
Though currently in stages of research, construction is underway in Alabama on a 250-kilowatt coal-powered plant using the new technique. Researchers believe that chemical loop plants may be one of the cheapest ways to reduce carbon dioxide emissions, and this just may be the future of cheap, carbon-reducing energy production.
Quality Magnetite offers the best supply solution for power plants
Regardless of your power production volume, Quality Magnetite is here to provide you with all of the ferrous oxide necessary to help you create a cleaner, lower-emission footprint for your plant.
When you work with Quality Magnetite, you'll be able to take advantage of our extensive network of material suppliers, ensuring the highest-quality iron oxide every time. We have the most technologically advanced processing capabilities in North America, allowing for customization of products to meet our customers' most precise requirements.
Combined with our large custom fleet of trucks and constantly updated logistics processes, Quality Magnetite is the best-equipped company in the industry to provide the ferrous oxide for all your emissions reduction needs.
Learn more about Quality Magnetite
Discover more about Quality Magnetite and how it can aid you in creating cleaner energy and reducing emissions by visiting our information portal. Or, if you have questions, don't hesitate to contact us today.